Download the Sponsor/Exhibitor Prospectus
Join us as a sponsor and/or exhibitor for the California Dairy Sustainability Summit as leaders from the dairy industry explore new ways to drive progress in environmental sustainability. The summit will provide the dairy industry with one-stop access to the information, technology, and services that can support their efforts to meet environmental standards and improve upon existing models for sustainable operations.
Who Should Sponsor or Exhibit?
Dairy Waste-to-Energy Solution Providers
Digester Developers
Local, Regional, State & Federal Agencies
Manure Management Technology Companies
Biogas Conditioning Equipment Providers
Financial, Insurance & Legal Service Providers
Solar Energy Providers
Wind Energy Providers
Generator-Set & Engine Equipment OEM/Dealers
Utility Service Companies
Energy Efficiency Technology Providers
Dairy Marketing Agencies and Partners
Renewable Energy Providers
Waste Water Quality Treatment Solution Providers

Robotic and Advanced Milking System Manufacturers
Animal Health Care Technology Providers
Herd Comfort Solution Companies
Feed Nutrition Providers
AgTech & Herd Management Technology Providers
Genetic Services - Technology Providers
Dairy Feed Mixing Equipment Manufacturers
Irrigation Technology Providers
Crop Production Technology Companies
Ethanol Producers
Milk Transportation Companies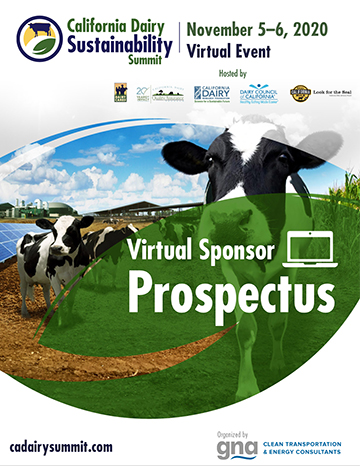 Sponsorship & Exhibitor Opportunities:
Tony Quist, Vice President of Sales & Events
Gladstein, Neandross & Associates
Organizers of Califorina Dairy Sustianability Summit
310-573-8564
tony.quist@gladstein.org